The announcement of Doom: Eternal at E3 2018 got a lot of trigger fingers twitching. But what is it, when is it coming, and how will it expand on the well-loved franchise?
Few franchises embody the FPS genre quite like Doom. Packed to the seams with blood, hellfire, shotguns, and even more blood, id Software's ultra-violent shooter has earned legions of fans since its first game in 1993: pitching a nameless marine against hordes of demons unleashed from hell.
Now, two years after a 2016 reboot brought the franchise successfully to modern consoles, we have word of a direct sequel: Doom Eternal.
[Update: Doom Eternal's gameplay reveal will take place later today at the QuakeCon keynote.]
We've only seen a brief teaser trailer so far, though it looks like the sequel is aiming to go bigger and better. This time, the demon invasion has spread a lot farther than Mars.
Cut to the chase
What is it? A fast-paced, ultra-violent shooter where you beat and shoot demons to a pulp, and the sequel to 2016's Doom
What can I play it on? PC, Xbox One, and PS4 for certain, while a Switch port some time after release looks likely
When can I play it? December 28, 2018
Doom Eternal release date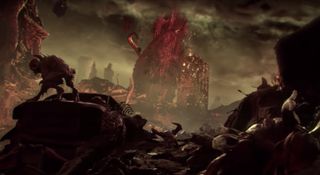 Thankfully there's no need to speculate on the release date, as the game's Amazon listing sets it at December 28 this year. That's a much quicker turnaround than 2016's Doom, which was announced at E3 a year prior to release.
However, it's possible that this could be a placeholder release date in lieu of any concrete information.
We've been promised more details on the game at this year's QuakeCon, the annual convention run by Doom publisher ZeniMax every August.
Doom Eternal trailers
Doom Eternal's trailer has everything we love about the series, dialed up to 11. Get a glimpse of its apocalyptic vision of Earth, with a suitably thumping soundtrack and some jacked-up demons staring down the barrel of a shotgun.
Doom Eternal news and rumors
QuakeCon
The Doom Eternal gameplay reveal is due to be shown during the QuakeCon keynote later today, hopefully giving us a few more details on what we can expect from the highly-anticipated sequel.
You can catch all the action live on the Quake Twitch account starting at 9pm PDT / 12 pm EDT / 5pm BST on August 10 or 2am AEST on August 11.
There's no place like home
Instead of the previous game's isolated mining site on Mars, Doom Eternal brings the action to Earth, and it looks like there's been a lot of damage. Skulls litter the ground, creatures howl, and tendrils pull apart skyscrapers in the distance.
While Doom is traditionally known for its tight, claustrophobic level design, a more expansive map could encourage different styles of play and allow for far bigger set pieces (read: bigger demons).
We imagine Doom Eternal will continue with the same fast-paced, gun-heavy combat the series is known for. But Bethesda has promised a lot more demons to fight, and that you'll feel a lot more powerful this time around.
Could Eternal be online?
While Bethesda have clarified Doom Eternal will be a direct sequel to the previous entry, the Eternal branding makes us think there may be more of a stress on online components – especially since Bethesda's Elder Scrolls and Fallout franchises have been branching out in this direction.
Could we see an expanded online game mode with regular updates to its world-sized hellscape?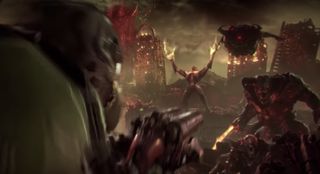 Or will we see a VR version?
The last Doom came to the HTC Vive and Playstation VR last year, albeit with some clunky navigation issues and a comparatively stripped-back three-hour story. The upcoming sequel is the perfect opportunity to build on that foundation and make a VR experience deserving of the legendary IP.
Could we see it on the Switch?
Seeing a bloodthirsty rampage like Doom Eternal on Nintendo's family-friendly Switch seems like an odd match, but that didn't stop 2016's Doom from porting to the console. 
Bethesda have now brought several of their franchises to the Switch – Wolfenstein, Doom, Skyrim – so we wouldn't be surprised if they kept up the supply.
Amazon is only taking preorders for PC, Xbox One, and PlayStation 4 versions, but it's possible there'll be a Switch port within the year following its release.
Keep checking back here for all the latest Doom Eternal news 
Keep up to date with all our game coverage of E3 2018